It was said once in our Young Married Ministry at Church "your wife should love your bedroom, it should be beautiful and decorated the way she likes it .. that way she wants to spend lots of time in there!"
Well stated Travis.
Allow me to show you my bedroom.


Yeah NO.
This room is NONE of the above. In fact its like an anti-bedroom .. I avoid it!
My husband and I have slept in each of the bedrooms in our house trying to find an arrangement that worked for our family. In the end we settled in this room. Brief side note: we live in a 3/4 bedroom house with 5 kids. Right now we have this room (2nd largest), our son has the other bedroom on the first floor (2nd smallest). All 4 girls share the "master" bedroom upstairs and the smallest "4th" bedroom is a family dressing room for all the girls and all their clothes.
Years ago this room belonged to our 2 oldest .. which is why the walls are "Pond Water" teal.
But .. we have been sleeping in here for a good 4 years now and have not done a single thing to it!
Todo:
- Paint the walls! I am thinking a soft green/gray color
- Paint the trim white (all the trim in the house is "almond")
- Window treatments
- Um .. Bedding!
- Something on the walls!
- A headboard
- New Dresser
- Small sitting area? 1 chair and small table??
- Accessories!
- New lamp shades
- Paint the night stands
Here is what I am thinking!
I LOVE this frame wall! I have already started collecting!
And I might just put it over my dresser like this too!
A canopy over our bed? Yes!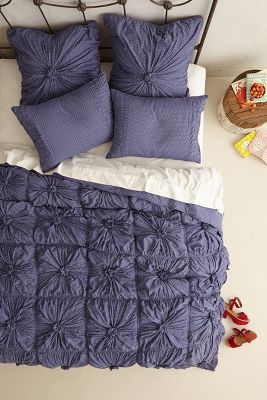 The purple bed set is Anthropology at almost 300 bucks!
This is an Anthropology knock off that I hope to tackle! In all white even!
A soft green/gray paint, this is Rain Tree by Benjamin Moore
I want a dark walnut stained headboard .. maybe from pallets? I have some already!
I already have a dresser .. but I want to stand it and paint it two toned like this! White paint and a dark walnut stain to match the headboard! I will paint the night stands white since they are not real wood.
I cant wait to start!
And my budget? Well I had these two HUGE dressers in our room that were given to me years ago before I was even married .. but they were just to big for our room and half empty. So I sold them on Craigs List for $200 bucks!
I am hoping to pull off the WHOLE room make over .. floor to ceiling for just $200 bucks!